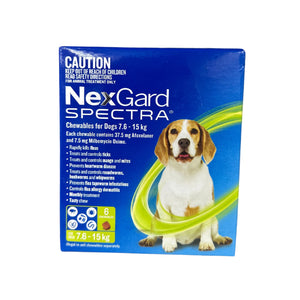 NexGard Spectra Chewables for Medium Dogs (7.6 - 15kg) - 6 Tablets

Give your medium-sized canine companion the protection they deserve with NexGard Spectra Chewables. These delicious chews offer a convenient and comprehensive defense against a range of common canine parasites, ensuring your furry friend stays happy and healthy.

Key Benefits:
- All-in-One Defense: NexGard Spectra provides a powerful shield against fleas, ticks, mites, and a variety of worms including heartworm, roundworm, and hookworm.
- Tasty and Easy to Administer: With a savory flavor that dogs love, these chews are a hassle-free solution for both pet and owner.
- Monthly Protection: Just one chew per month is all it takes to ensure your dog enjoys continuous, reliable protection.
- Ideal for Medium Dogs: Specifically formulated for dogs weighing between 7.6 - 15kg, making it a perfect choice for medium-sized breeds.

Elevate your dog's well-being with NexGard Spectra Chewables. Invest in their health and enjoy countless happy moments together, free from worries about pesky parasites.