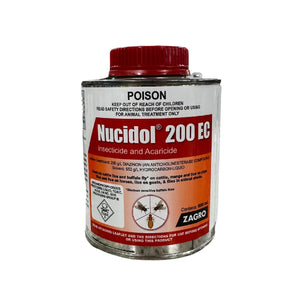 Nucidol 200 EC Insecticide & Acaricide - 500mL

Tackle pests and parasites effectively with Nucidol 200 EC, a versatile insecticide and acaricide that delivers superior results across multiple livestock. Here's why Nucidol 200 EC is your ultimate choice:

Targeted Pest Control:
- Cattle: Controls lice (Bovicola bovis, Linognathus vituli, Haematopinus eurysternus) and buffalo flies (Haematobia irritans exigua).
- Goats: Manages lice (Bovicola caprae).
- Pigs: Eliminates lice (Haematopinus suis) and mange mites (Sarcoptes spp).
- Sheep: Effective against blowfly strike (Lucilia cuprina) on struck sheep.
- Animal Sheds: Handles houseflies (Musca domestica) and stable flies (Stomoxys calcictrans).

The Nucidol Advantage:
- Powered by Diazinon, a trusted organophosphate insecticide.
- Comprehensive pest control across various livestock.
- Swift knockdown action against targeted parasites.
- Flexible application methods include Backrubber, Rubbing Post, and Hand Spray.
- Cost-effective solution for livestock management.
- Cattle-friendly self-treatment options with back rubber and rubbing post applications.
- Nucidol 200 EC provides effective Buffalo Fly control for cattle.

Buffalo Fly Control:
Buffalo flies on cattle are manageable. Treatment is warranted when the fly population exceeds 200 flies per animal (100 on each side) or when susceptible animals, like bulls, exhibit signs of 'fly worry' (e.g., head tossing, sudden movements, and reluctance to eat). For dairy cows, consider treatment when 30 or more flies are present.

It's recommended to avoid treatment unless the fly population poses significant welfare or economic concerns. Trust Nucidol 200 EC to keep your livestock pest-free and productive.

Choose Nucidol 200 EC Insecticide for reliable, targeted pest control that supports livestock health and well-being.