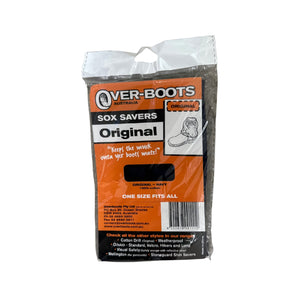 Standard Over-Boot - One Size Fits All

The timeless and widely acclaimed choice worn by a diverse range of professionals and outdoor enthusiasts. From road workers and park rangers to gardeners, miners, hikers, hunters, and construction workers, these over-boots have earned their popularity for a reason.

Crafted from 100% workwear standard 190-gram cotton drill, these over-boots embody durability and reliability. The robust material ensures a long-lasting solution to various outdoor and industrial challenges.

Designed to tackle dry muck effectively, the Standard Over-Boot acts as a reliable barrier against grass seeds, clippings, sawdust, and soil. By preventing these elements from entering socks and boots, it enhances comfort and maintains cleanliness throughout wear.

For a time-tested solution to keep your feet dry and comfortable in various environments, choose the Standard Over-Boot. Whether you're navigating outdoor terrain or engaged in industrial work, these over-boots deliver unmatched protection and enduring style.