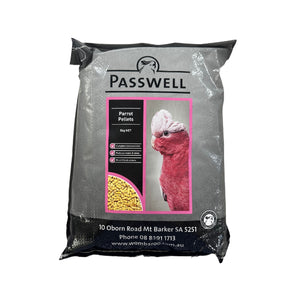 Passwell Parrot Pellets - 5kg

Parrot Pellets are a balanced diet for all parrots including ringnecks, conures, amazons, eclectus, cockatoos and macaws. Use as a healthy replacement to seed mixes.

Whats wrong with seed mixes?
Wasteful: Parrots don't eat the husk and select only their favourite seeds, wasting up to 40% of the seed mix.
Poor Nutrition: Seed is deficient in essential nutrients such as amino acids, vitamins & minerals, but with excessive amounts of fat, which can lead to unhealthy birds.

What are the benefits of Parrot Pellets?
Totally Edible: Reduces waste and mess.
Better Nutrition: Enriched with essential amino acids (lysine, methionine), omega-3 & 6, vitamins & minerals.
Improved Health: Low fat for weight control, with quality protein for good feather condition.