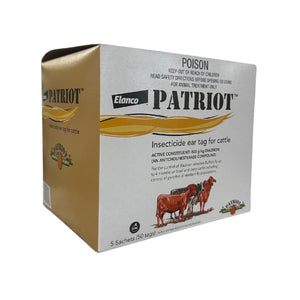 Patriot Insecticide Ear Tags for Cattle - 50 Pack

Your Trusted Solution for Long-lasting Fly Control

Protect your beef and dairy cattle from the relentless onslaught of diazinon-sensitive buffalo flies with Patriot Insecticide Ear Tags. Our 50-pack of tags is your ticket to maintaining a healthier and happier herd, ensuring their comfort and well-being all year round.

Key Features:
- Proven Formulation: Patriot Ear Tags contain an impressive 400 g/kg of Diazinon, a highly effective insecticide renowned for its powerful control of diazinon-sensitive buffalo flies.
- Extended Protection: These ear tags offer up to four months of continuous fly control, giving your cattle the relief they need from pesky insects.
- Targeted Solution: Patriot Ear Tags not only tackle diazinon-sensitive flies but are also effective against pyrethroid-resistant fly populations, ensuring thorough coverage for your cattle.

Important Guidelines:
- Age-Specific Tagging: For the safety of your calves, refrain from tagging those younger than three months of age, as ear damage may occur.
- Withholding Periods: You can rest easy knowing that Patriot Ear Tags have no withdrawal period for meat or milk production, and there is no export slaughter interval.
- Directions for Use: Achieve optimal results by attaching one Patriot Ear Tag to the back of each animal's ear. Use these tags regularly on all cattle over three months old to maintain effective fly control. This regimen also helps reduce the potential for diazinon resistance to develop in your herd.

Convenient Packaging: Patriot Ear Tags come in a pack of 50 tags, divided into 5 sachets, with 10 tags per sachet, making it easy to manage and distribute as needed.

Ensure the well-being of your cattle and the success of your operation with Patriot Insecticide Ear Tags. Say goodbye to fly-related stress and discomfort and keep your herd content and thriving. Choose Patriot Ear Tags - the smart choice for reliable, long-lasting fly control.