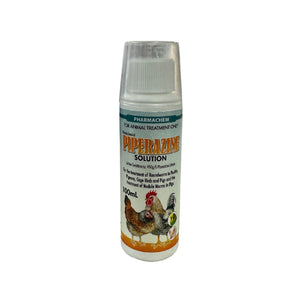 Pharmachem Piperazine Solution 45% - 100mL

Your Trusted Solution for Roundworm Control

When it comes to safeguarding the health of your poultry, pigeons, cage birds, and pigs, you need a reliable and effective solution for controlling roundworm infestations. Look no further than Pharmachem Piperazine Solution, a super concentrated formulation designed to provide unmatched protection against these parasitic invaders. Additionally, it serves as an effective nodule wormer for pigs.

Key Features:

Super Concentrated Formula: Piperazine Solution is formulated to be super concentrated, ensuring a potent and effective means of controlling roundworms in poultry, pigeons, cage birds, and pigs. This concentration is your assurance that these parasites don't stand a chance.

Ease of Administration: We understand the importance of ease and convenience when it comes to animal care. This solution is a user-friendly, liquid preparation that's easy to administer. When used as directed, it's an economical wormer that can be applied with minimal hassle.

Versatile Application: Administering Piperazine Solution is straightforward. Simply mix the required amount with water and let the Piperazine Citrate work its magic. This preparation can also be conveniently administered in wet mash or through individual drenching, ensuring flexibility in your parasite control regimen.

Active Ingredient:

Piperazine Citrate 450g/L: The powerful active ingredient in this solution, Piperazine Citrate, guarantees effective roundworm control and nodule worming, giving you peace of mind that your animals are receiving the best care possible.
This solution offers you a convenient, economical, and highly effective means of controlling roundworm infestations in poultry, pigeons, cage birds, and pigs.

Ensure the health and vitality of your animals by choosing Pharmachem Piperazine Solution as your go-to roundworm control solution. Order now and experience the difference.