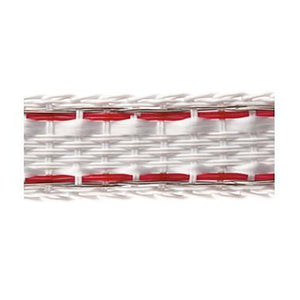 Stafix Extreme Tape - 12mm x 200m

When it comes to securing your property or containing livestock, nothing beats the reliability and power of the Stafix Extreme Tape. This 12mm x 200m roll of electric fencing tape is designed to provide exceptional conductivity, durability, and visibility, making it the ideal choice for both temporary and semi-permanent fencing solutions.

Unmatched Conductivity:
Stafix Extreme Tape is engineered with six tinned copper strands, making it an astonishing 106 times more conductive than standard Politape. This level of conductivity ensures that electric impulses travel faster and more efficiently throughout your fence, increasing its shocking and stopping power. Whether you're protecting your crops, livestock, or property, this tape delivers the ultimate peace of mind.

Built for Strength:
Constructed with a tightly woven, heavy-duty design, this Extreme Tape offers superior strength and longevity. It can withstand the test of time and the harshest weather conditions, ensuring your fence remains intact and effective for years to come.

Ultimate Visibility:
The 12mm width of the tape, coupled with its distinctive white and red weave, guarantees ultimate visibility. This high-contrast design is easily discernible even from a distance, reducing the risk of accidental contact and enhancing safety for both humans and animals.

Long-Lasting Durability:
Electric fencing must endure relentless exposure to the elements. That's why this Extreme Tape is UV stabilized to maintain its integrity and performance in the face of prolonged sun exposure. This feature ensures that your investment will last, season after season.

Key Features at a Glance:

- 12mm x 200m roll for extended coverage
- 6 tinned copper strands for unparalleled conductivity
- Heavy-duty construction for superior strength
- White and red weave for maximum visibility
- UV stabilized for long-lasting durability

Whether you need to protect your garden, secure your livestock, or create a temporary barrier, the Stafix Extreme Tape is the ultimate choice for electric fencing. Invest in the best to safeguard your assets and enjoy peace of mind knowing that you have a reliable, high-performance solution by your side.

Upgrade your fencing today with Stafix Extreme Tape and experience the difference in conductivity, strength, and visibility that only this product can provide!