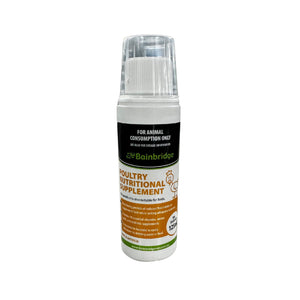 Bainbridge Poultry Nutritional Supplement - 125mL

For poultry keepers who demand the very best for their hens and birds, Bainbridge Poultry Nutritional Supplement is the answer. This carefully crafted supplement is designed to ensure your feathered friends receive the essential nutrients they need, promoting their health and well-being.

Complete Nutrient Solution: Bainbridge Poultry Nutritional Supplement provides a comprehensive blend of essential nutrients, including 10 vital vitamins, amino acids, and prebiotic supplements. It's your guarantee that your hens and birds receive a well-rounded diet, promoting their overall health and productivity.

Australian Formulation: This supplement is proudly formulated in Australia, a country known for its dedication to quality and excellence.

Easy Administration: We understand that ease of use is crucial for busy poultry keepers. Bainbridge Poultry Nutritional Supplement is designed for convenient administration. Simply add it to the drinking water or mix it with their food. It's a hassle-free way to provide your birds with the essential nutrients they need to thrive.

Versatile Use: While primarily intended for hens, this supplement is also suitable for a variety of birds. Whether you're raising chickens, turkeys, ducks, or other poultry, our product is your trusted ally for their nutritional needs.


Make Bainbridge Poultry Nutritional Supplement an essential part of your poultry care routine. Your flock will thank you with their good health and productivity.