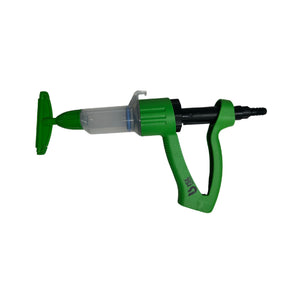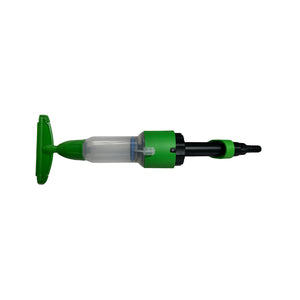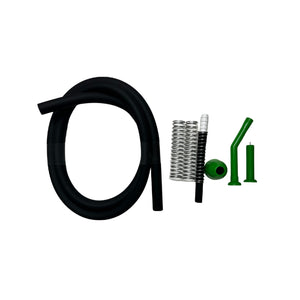 Ezi Squeeze Pour-On Applicator - 40mL

Unleash the power of precision with the Ezi Squeeze Pour-On Applicator - your ultimate partner for precise and efficient drug delivery to your livestock. Designed to cater to a wide range of sheep and cattle pour-on products, this applicator is a game-changer in animal health management.

Key Features:
- SoftLock Valve Technology: Experience a faster refilling process with our cutting-edge SoftLock valve technology, making your work smoother and more efficient.
- Offset Barrel Outlet: Say goodbye to priming hassles with the innovative Offset Barrel Outlet, ensuring a hassle-free experience from start to finish.
- No 'After-Spurt': We hate product wastage as much as you do. That's why this applicator features a design that eliminates 'after-spurt,' ensuring every drop goes where it's needed.
- Effortless Squeezing: The high-quality valves require only 60% of the effort to squeeze the trigger compared to alternative products, reducing hand fatigue and making your job easier.
- Dose Selector: With the innovative Dose Selector at the top of the applicator, you can quickly and easily adjust dosages by rotating the numbered dosage rate. Precision has never been this convenient.
- Ergonomic Design: We understand the importance of comfort during prolonged use. This applicator boasts an ergonomic handle design, making it comfortable to hold and operate.
- Versatile Nozzles: The Ezi Squeeze Pour-On Applicator comes with a range of nozzles, including T bar, star tip, and fan tip, ensuring compatibility with various pour-on products.
- Built to Last: Equipped with a santoprene hose to handle even the harshest products like Flukicides, Tickicides, and Lousicides.
- Cleaning Made Easy: Please note that after using specific products like Zapp and Avenge, do not use water to flush out remaining product, as this can damage the applicator. Instead, use vegetable oil for a thorough clean.
- Precision Dosages: Select dosages with ease, in increments of 2ml from 10ml to 18ml, and then 1ml increments from 19ml to 40ml. Precision has never been simpler.

Experience the future of animal health management with the Ezi Squeeze Pour-On Applicator from ISL Animal Health. Elevate your livestock care to new heights of precision, efficiency, and reliability.

Order now and witness the difference for yourself. Trust ISL Animal Health for excellence in every application.