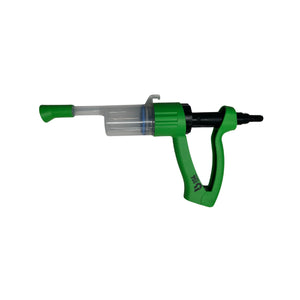 Ezi Squeeze Pour-On Applicator – 70mL

Precision and Efficiency in Your Hands!

When it comes to administering mectin-based cattle pour-ons, the Ezi Squeeze Pour-On Applicator is your trusted ally. Crafted with innovation and precision, this applicator takes the guesswork out of dosing, making your livestock care routine effortless and effective.

Key Features:
- Unmatched Compatibility: Designed to work seamlessly with all mectin-based cattle pour-ons, this applicator offers versatility and reliability in a single tool.
- Swift Refilling: Experience the convenience of SoftLock valve technology, which ensures quick refills, saving you time and effort during application.
- Effortless Squeezing: The new Shower nozzle design is not only effective but also easy to squeeze, reducing hand fatigue and making every application a breeze.
- Priming Excellence: Say goodbye to priming challenges with the innovative Offset Barrel Outlet, designed to improve priming and ensure a hassle-free start.
- Dial-A-Dose Selector: Precision dosing has never been simpler. The Dial-A-Dose selector boasts a smooth action and exceptional accuracy, allowing you to tailor each dose precisely to your livestock's needs.
- Convenient Design: Enjoy the benefits of an angled shower nozzle for convenient application and an ergonomic design that ensures comfortable handling during prolonged use.
- Minimized Wastage: Bid farewell to product 'after-spurt.' The Ezi Squeeze Applicator ensures minimal wastage, making every drop count.
- Effortless Trigger: Our high-quality valves require only 60% of the effort to squeeze the trigger compared to alternative products, reducing hand strain and enhancing your experience.
- Quick Dose Changes: The Dose Selector at the top of the applicator allows for swift and easy changes to the dosage. Simply rotate the numbered dosage rate to adjust as needed.
- Built to Last: Robust and easily repaired, this applicator is a long-lasting investment in your livestock care toolkit.
- Easy Maintenance: Cleaning and re-lubrication are a breeze with its easily dismantled design, ensuring your applicator remains in top condition.
- Tailored Dosages: Choose from dosages ranging from 10ml to 70ml in increments of 2.5ml, offering flexibility and precision in your livestock care routine.

Elevate your livestock care to new heights of precision, efficiency, and reliability with the Ezi Squeeze Pour On Applicator. Experience the future of cattle pour-on administration.

Order now and witness the difference for yourself.