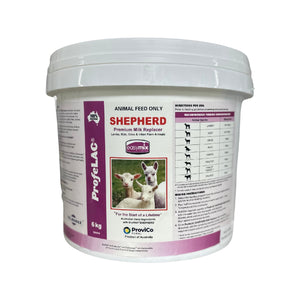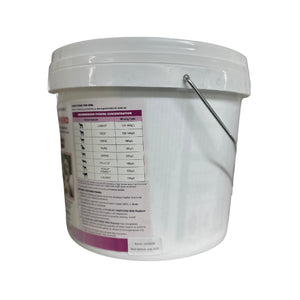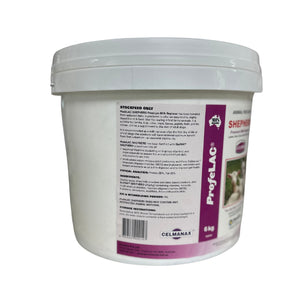 ProfeLAC Shepherd - Lamb & Kid Milk Replacer - 6kg

Your trusted non-medicated milk replacer designed specifically for the optimal rearing of lambs, kids, and crias. This all-in-one product is not only easy to mix but consistently delivers exceptional performance across various systems. While tailored for the unique needs of lambs, kids, and crias, ProfeLAC Shepherd proves to be a versatile milk replacer suitable for a range of species, including fawns, piglets, pups, calves, and foals.

Key Benefits:

- Easy Application: ProfeLAC Shepherd stands out for its ease of use. The convenient all-in-one formulation simplifies the mixing process, making it hassle-free for farmers and caregivers. This user-friendly feature ensures a smooth and efficient rearing experience.

- Performance Excellence: ProfeLAC Shepherd is formulated to go beyond basic nutrition. It is designed to improve gut health, reducing the occurrence of scours. Additionally, its specialised composition enhances the overall condition and growth rates of lambs, kids, and crias, ensuring they thrive during their crucial early stages of life.

- Multi-Species Compatibility: While specifically crafted for lambs, kids, and crias, ProfeLAC Shepherd's versatility shines through as an effective milk replacer for various species. Whether you're caring for fawns, piglets, pups, calves, or foals, this milk replacer provides the same high-quality nutrition and support across the board.

The ProfeLAC Advantage:

- Non-Medicated Formulation: ProfeLAC Shepherd is crafted based on extensive global research, development, and innovation. Its non-medicated formulation ensures a holistic approach to nutrition, prioritising the well-being of your animals without unnecessary additives.

- Proven Performance: ProfeLAC Shepherd has been tried, tested, and proven in the field. The product's consistency and reliability have earned it the endorsement of farmers and industry specialists alike, making it a trusted choice in milk replacers.

- Unsurpassed Quality: ProfeLAC Shepherd sets a standard for product quality and technical support. Its formulation is designed to meet the highest standards, ensuring that you receive a product that consistently performs and meets the nutritional needs of your animals.


Additional Benefits:

- Improved Gut Health: The formulation of ProfeLAC shepherd contributes to improved gut health, reducing the likelihood of scours and promoting overall digestive well-being.

- Enhanced Body Condition and Growth Rates: The performance-driven composition of ProfeLAC shepherd is aimed at enhancing the body condition and growth rates of lambs, kids, and crias, ensuring they develop into healthy and robust individuals.

- Best Value: ProfeLAC shepherd not only excels in composition and performance but also offers the best value. The benefits it provides make it a cost-effective choice for farmers seeking optimal results.

Choose ProfeLAC shepherd for a non-medicated milk replacer that not only meets but exceeds your expectations in application, performance, and price. Backed by the ProfeLAC Advantage, this versatile and reliable product is the key to successful rearing across a spectrum of young animals.