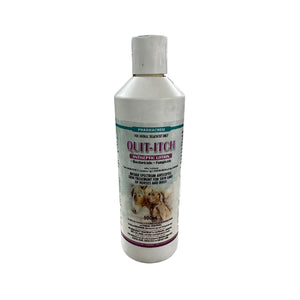 Quit-Itch Antiseptic & Anti-Fungal Wash - 500mL

Proudly Australian Made and Owned

The well-being of your cherished horses and dogs is of utmost importance. We understand the need for a reliable, effective, and versatile solution to tackle various skin conditions. Introducing Quit-Itch, the all-in-one antiseptic and anti-fungal wash that your loyal companions deserve.

Broad-Spectrum Skin Treatment: Quit-Itch is a potent, broad-spectrum antiseptic skin treatment, specially designed to combat an array of skin conditions in horses and dogs. It's a versatile addition to your pet care regimen, ensuring their skin stays healthy and irritation-free.

Shampoo or Direct Application: Quit-Itch provides flexibility in use. It can be employed as a soothing shampoo for a thorough cleanse or applied directly to the affected area for targeted relief*. Whichever method you choose, you can be confident in the results.

The Power of Iodine: At the heart of Quit-Itch is the remarkable antiseptic power of iodine. Iodine is renowned for its antibacterial and antifungal properties, making it an excellent choice to keep infections at bay. It's your pet's first line of defense against unwelcome invaders.

Emergency Treatment: Quit-Itch isn't just a preventive measure; it's also a quick-response solution for superficial wounds. It helps alleviate itching and rubbing caused by a variety of skin issues.

For Horses, For Dogs: Quit-Itch caters to both horses and dogs. It's a comprehensive solution for your diverse pet family. Whether it's insect bites, skin infections, greasy heel, girth itch, ringworm (for horses), or insect bites, skin infections, ringworm, eczema, and hotspots (for dogs), Quit-Itch is here to provide relief.

Your loyal companions deserve the best care, and Quit-Itch ensures they receive it. It's an Australian-made and owned solution, crafted with a deep understanding of your pet's unique needs.

Choose Quit-Itch for a happier, healthier, and more comfortable life for your horses and dogs. With Quit-Itch as your trusted ally, you can enjoy the peace of mind that comes with knowing your pets are in good hands. Provide them with the care they deserve, and let them thrive in a pest-free, irritation-free environment.

For more information click here.