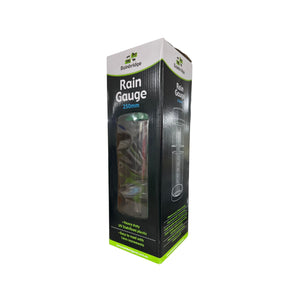 Rain Gauge - 250mm

A top-tier solution for precise rainfall measurement, offering exceptional quality without the premium price. This traditional rain gauge is engineered to meet the diverse needs of primary producers, graziers, commercial enterprises, nurseries, farmers, and gardeners who demand accuracy and reliability in their rainfall data.

Key Features:

Uncompromising Quality: Experience the reliability of a high-quality traditional rain gauge without the expected price tag. This Rain Gauge is crafted with precision and attention to detail, ensuring accurate and consistent rainfall measurements.

Tailored for Diverse Users: Designed to cater to the needs of primary producers, graziers, commercial ventures, nurseries, farmers, and gardeners, this rain gauge is a versatile tool for a wide range of applications. No matter your industry, trust this rain gauge to deliver dependable results.

Effortless Installation: Simplify the setup process with this rain gauge's multi-hole mounting plate. Quick and simple installation means you can start monitoring rainfall data promptly, saving you time and effort.

Built to Endure: Constructed with UV-resistant materials, this Rain Gauge is engineered to withstand the challenging conditions of the Australian climate. From intense sunlight to unpredictable weather patterns, this rain gauge is built to endure and deliver consistent performance over the long term.

Upgrade your rainfall monitoring experience with the Rain Gauge 250mm. It's not just a tool; it's a commitment to accuracy, durability, and affordability. Invest in a rain gauge that exceeds expectations and stands up to the demands of various industries and applications.
Click here to download your free rainfall chart.