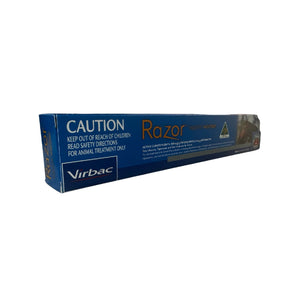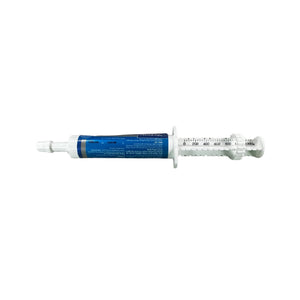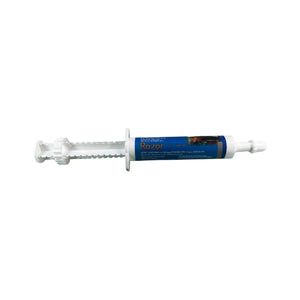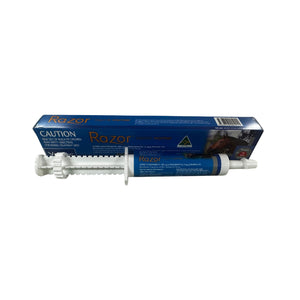 Razor Equine Wormer - 30mL

In the world of horse care, safeguarding the health of your equine companions is a top priority. Razor Equine Wormer is your answer, offering a broad-spectrum horse worming paste that effectively treats and controls various internal parasites. As a cost-effective and versatile solution, it is designed to ensure the well-being and longevity of your horses.

Key Features and Benefits:

- Broad-Spectrum Efficacy: Razor Equine Wormer is a powerful treatment designed to combat a wide range of equine internal parasites. It is effective against roundworms, including arterial larval stages of Strongylus vulgaris and benzimidazole-resistant small strongyles, tapeworms, bots, and skin lesions, including summer sores caused by Habronema and Draschia spp., and Onchocerca spp. (cutaneous onchocerciasis). This comprehensive approach guarantees that your horses are safeguarded against multiple parasitic threats.

Product Specifications:-

Active Constituents:

- Ivermectin
- Praziquantel

Dosage and Administration:

- Razor Equine Wormer is administered in a convenient multi-dose syringe, making dosing multiple horses both easy and cost-effective. One syringe treats two horses weighing 600kg each, ensuring efficient use.

Recommended for:

- Treatment and Control: Razor Equine Wormer is recommended for the treatment and control of susceptible strains of various internal parasites, including Large Strongyles, Small Strongyles, Ascarids, Pinworms, Hairworms, Large Mouthed Stomach Worms, Lungworms, Neck and Intestinal Threadworms, all three species of tapeworms, and all three species of bots. It also effectively controls skin lesions caused by Habronema and Draschia spp., as well as cutaneous larvae (summer sores) Onchocerca spp. microfilariae.

Why Choose Razor Equine Wormer?

- Broad Spectrum Allwormer: The combination of ivermectin and praziquantel in Razor Equine Wormer provides a broad-spectrum anti-parasiticide for total control of all susceptible equine worms, bots, lungworms, intestinal threadworms, tapeworms, and skin parasites. This comprehensive protection ensures your horses remain healthy and vital.

- Protection Against Worm-Related Diseases: Strategic worming with a broad-spectrum product like Razor Equine Wormer significantly reduces the risk of diseases and colic attributed to worms, maintaining the health and vitality of your horses. Small redworms, tapeworms, and ascarids are known to cause significant health issues, including colic, diarrhea, and even death. Protect your horses with Razor Equine Wormer.

- Track Record of Safety: Razor Equine Wormer has a proven safety record, making it suitable for different age groups and life stages of horses, including foals, pregnant mares, and breeding stallions.

- Convenient Multi-Dose Syringe: Razor Equine Wormer offers two worming treatments for a 600kg horse in each 30mL syringe, providing versatility and reducing waste. This unique design allows you to save money and efficiently worm multiple horses in one go, all while reducing packaging waste and environmental impact.

- Palatable Paste: The consistently smooth, flavoured paste in Razor Equine Wormer ensures that horses of all ages find it palatable and easy to administer.

- Developed and Made in Australia: Razor Equine Wormer is proudly developed and manufactured in Australia, meeting the highest standards of quality and effectiveness.

In your commitment to maintaining the health and vitality of your horses, choose Razor Equine Wormer for its unmatched efficacy, safety record, and cost-effectiveness. Protect your equine companions against a wide range of parasites and ensure their well-being and longevity. Order now and experience the difference it can make in the care of your valued horses.