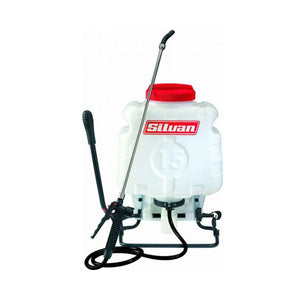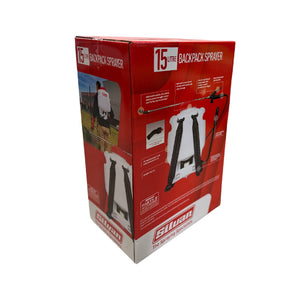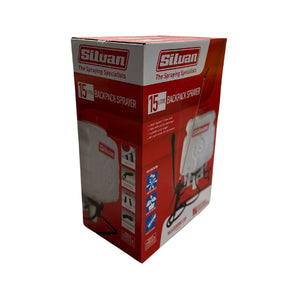 Silvan 15L Backpack Sprayer

A versatile and user-friendly solution for precise chemical application in your garden or agricultural activities. Engineered for accuracy and comfort, this backpack sprayer combines innovative design features with practical functionality.

Key Features:

Adjustable Nozzle for Versatile Application: The Silvan 15L Backpack Sprayer is equipped with an adjustable nozzle that allows you to tailor your spraying technique. From a conical fine mist to a focused pencil stream, and with the flat fan nozzle for more precise spraying, this sprayer ensures accuracy in chemical application.

Comfortable Padded Shoulder Straps: Experience ease of use with padded shoulder straps that provide optimal comfort during extended use. Whether you're tending to your garden or engaging in agricultural tasks, the Silvan Backpack Sprayer is designed with user comfort in mind.

Pump Operation Suited for Left & Right-Handed Use: Adaptability is key, and the pump operation of this backpack sprayer is designed to accommodate both left and right-handed users. Enjoy the flexibility to switch hands without compromising efficiency.

Easy-to-Use Shut-off Spray Handle: The Silvan Backpack Sprayer features a shut-off spray handle with a comfort grip for effortless operation. The lockable spray trigger adds an extra layer of convenience, giving you control over the application process.

Anti-Spill Screw Lid and Strainer: Designed for practicality, the anti-spill screw lid and strainer ensure a mess-free experience. The integrated handle and lance storage contribute to the sprayer's overall convenience and ease of use.

Durable Construction for Longevity: Crafted with durability in mind, the Silvan 15L Backpack Sprayer is built to withstand the rigors of regular use. Trust in its robust construction for consistent performance over time.

Enhance your spraying experience with the Silvan 15L Backpack Sprayer – where precision meets comfort. Whether you're a seasoned gardener or a professional in the field, this sprayer is your reliable companion for accurate and efficient chemical application. Invest in a tool that delivers results with ease and convenience.
Click here to download product brochure guide.