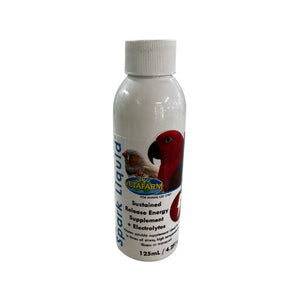 Spark Liquid Concentrate - 125mL

Expertly Formulated for Optimal Rehydration and Recovery

When your feathered friends face challenging situations, it's crucial to have a reliable solution at your disposal. Spark Liquid Concentrate, developed by veterinarians, is the fast and effective energy and electrolyte source you need to ensure your birds experience optimum rehydration, replenishment, and recovery.

Essential Support for Various Scenarios: Spark Liquid Concentrate is an essential tool for a range of situations. Whether your birds are dealing with extreme temperatures, in need of first aid during illness, stress, or injury, or embarking on a journey during transport or show, Spark Liquid Concentrate is the invaluable support system your birds can count on.

The Science Behind Spark Liquid: During times of heat stress, birds undergo significant changes in their body chemistry. Their blood pH levels fluctuate, sodium and potassium levels become imbalanced, and fluid balance is disrupted. While we do our best to manage temperature, it's equally important to help our birds return to normal as swiftly as possible. This is where electrolytes come into play.

The Key to Balance: In the realm of electrolytes, balance is the crucial factor. Every cell in the body relies on electrolytes to function properly, and each type of electrolyte needs to be present in specific quantities. Spark Liquid Concentrate is precisely formulated to provide the right balance of electrolytes to ensure your birds' well-being.

Comprehensive Recovery: Beyond electrolytes, Vetafarm Spark Liquid also includes vital carbohydrates, further enhancing the recovery process from stress, travel, illness, and heat. This comprehensive approach to recovery ensures that your birds not only regain their vitality but also maintain their overall health.

Your birds deserve the best care, especially in challenging times. Spark Liquid Concentrate is your trusted companion for ensuring they stay well-hydrated, balanced, and healthy.

Incorporate Spark Liquid Concentrate into your bird care routine and be prepared to provide swift and effective care when your birds need it most. Choose Spark Liquid for the well-being and vitality of your feathered friends. They deserve nothing less.