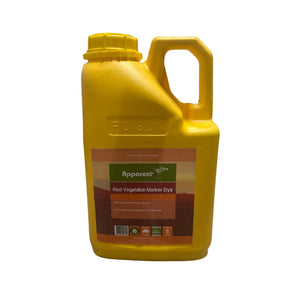 Red Vegetable Marker Dye - 5L

The solution for precise and efficient spray marking in a variety of applications. This non-hazardous liquid marking dye is formulated with Diazo (Dye Preparation), ensuring a safe yet powerful colouring agent to facilitate clear identification of sprayed areas.

Designed with cost-effectiveness in mind, Red Vegetable Marker Dye is the ultimate tool to eliminate the risk of over-application or missed strips, providing an invaluable aid in agricultural, industrial, domestic, metropolitan, council, and government gazetted areas. Whether you're a professional in the agricultural sector looking to optimise your spraying operations or seeking a reliable solution for clearly marked zones, this product is tailored to meet your needs.

Key Features:

Diazo-Powered Precision: Red Vegetable Marker Dye boasts an active ingredient - Diazo, a highly effective dye preparation known for its precision in marking. This ensures accurate identification of treated areas, minimising the risk of overlapping or missing spots.

Versatile Applications: Suitable for a wide range of applications, this dye is the go-to choice for agricultural spraying, industrial operations, domestic use, metropolitan planning, and areas governed by councils and government regulations. Its versatility makes it an indispensable tool in various sectors.

Cost-Effective Solution: Red Vegetable Marker Dye not only enhances accuracy but also contributes to cost savings by preventing unnecessary over-application. The efficient marking capabilities of this product mean you use only what is necessary, reducing waste and optimising resources.

User-Friendly: The liquid form of the dye ensures easy application and mixing, making it user-friendly for both professionals and individuals. Its simplicity of use enhances the overall efficiency of your marking processes.

Non-Hazardous Formula: Prioritising safety, Red Vegetable Marker Dye is crafted with a non-hazardous formula. This makes it environmentally friendly and safe for use in diverse settings without compromising on performance.

Upgrade your marking and spraying operations with Red Vegetable Marker Dye - the smart choice for precision, efficiency, and cost-effectiveness in all your marking endeavors.