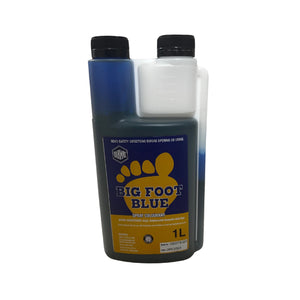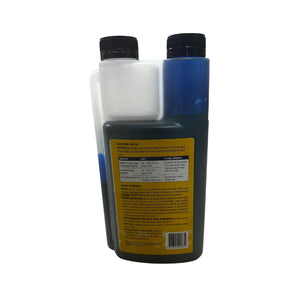 Big Foot Blue Spray Colourant - 1L

Your ultimate solution for precision and efficiency in agricultural, turf, and urban spray applications. Big Foot is a highly concentrated blue indicator dye designed to enhance the visibility of pesticide and fertiliser applications, making it an indispensable tool for those seeking accuracy and effectiveness in their spray routines.

High Concentration, Vibrant Blue Hue:
Big Foot boasts a highly concentrated blue colourant that stands out against various backgrounds, providing clear visibility of sprayed areas. This vibrant hue ensures that you can easily monitor and manage the coverage of your pesticide and fertiliser applications.

Versatility in Application:
This versatile spray dye marker is compatible with a wide range of pesticides, herbicides, fungicides, insecticides, and fertilisers. Whether you're working in agricultural fields, on turf, or in urban settings, Big Foot seamlessly integrates into your preferred spray solutions, enhancing their visibility and effectiveness.

Precision and Chemical Savings:
Big Foot is your go-to solution for minimising spray overlap and preventing unnecessary respraying of treated areas. By clearly marking sprayed zones, it helps you avoid waste and ensures that your applications are targeted and efficient. This not only saves on chemical usage but also contributes to cost-effective and environmentally responsible spray practices.

Colour Enhancement for Turf:
In addition to its primary function as an indicator dye, Big Foot can be used to enhance the color of turf in dry situations. This added benefit allows you to not only track your spray applications but also contribute to the aesthetic appeal of turf areas.

Application Areas:
- Agricultural Fields
- Turf Management
- Urban Landscapes

Upgrade your spray routines with Big Foot Blue Spray Colourant – the ultimate solution for accurate, efficient, and visually enhanced pesticide and fertiliser applications.