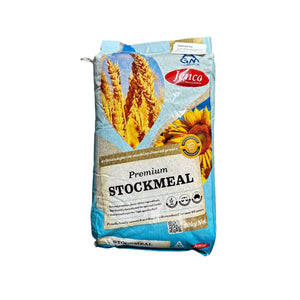 Premium Stockmeal – 20kg

A pinnacle in natural Australian livestock nutrition. Meticulously crafted with premium Australian ingredients, this feed is a testament to quality, providing your livestock with unparalleled nutrition for optimal health.

Key Features:

- Natural Australian Ingredients: Sourced from the pristine landscapes of Australia, Premium Stockmeal is made from the finest natural ingredients, ensuring a wholesome and nutrient-rich feed for your livestock.

- Nutritionally Formulated: This feed is not just a meal; it's a scientifically crafted formula designed to meet the specific nutritional needs of your livestock. Every ingredient is carefully selected to promote optimal health and performance.

- Guaranteed Superior Quality: This feed undergoes rigorous testing to meet the highest standards, guaranteeing that your livestock receives a feed of uncompromising excellence.

Whether you're raising cattle, poultry, or other livestock, Premium Stockmeal is your assurance of providing the best. Elevate your farming practices with a feed that goes beyond sustenance – it's a premium investment in the well-being and productivity of your valuable livestock.

Choose this Premium Stockmeal for natural goodness, nutritional precision, and a superior feeding experience.