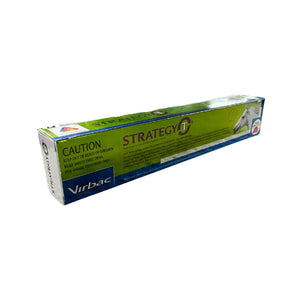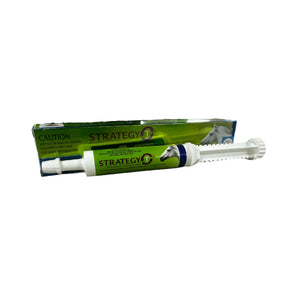 Strategy-T Unique Broad-Spectrum Wormer for Horses - 35mL

When it comes to safeguarding the health of your horses, you need a trusted and effective solution for worm control. Strategy-T stands out as a unique broad-spectrum horse worming paste, specially designed for the treatment and control of susceptible strains of all common equine worms. From small strongyles to large roundworms and even tapeworms, Strategy-T is your answer to maintaining the well-being of your horses.

Key Features and Benefits:

- Broad-Spectrum Efficacy: Strategy-T is a versatile horse worming paste that effectively targets a wide range of equine worms, including Small Strongyles (Redworms) such as benzimidazole-resistant strains, Large Strongyles (Bloodworms), Pinworms (Seatworm), Large Roundworms (Ascarids), and Tapeworms. This comprehensive approach ensures your horses are protected against a variety of parasitic threats.

- Unique Synergistic Combination: What sets Strategy-T apart is its unique combination of two active compounds – oxfendazole and pyrantel. These ingredients work in synergy to provide superior efficacy, effectively eliminating major equine worms, including tapeworm and benzimidazole-resistant redworms. The combination of these actives makes Strategy-T more effective than using either one alone.

- Safe for All Horses: Strategy-T is safe for use on all types of horses, including foals, pregnant mares, and breeding stallions. Its proven safety record in various age groups and life stages of horses gives you peace of mind in its application.

- Palatable Vanilla Flavor: Administering Strategy-T is hassle-free, thanks to its palatable vanilla-flavored paste. Horses readily accept it, making the dosing process a breeze.

- Australian Developed and Manufactured: Strategy-T is proudly developed and made in Australia, ensuring quality and effectiveness that meet the highest standards of equine care.

Recommended for:

A Unique Defense Against Resistant Equine Worms: Strategy-T is your go-to solution for effectively combating resistant equine worms. Its combination of active ingredients makes it comparable to mectin wormers, including benzimidazole-resistant strains, setting it apart as Australia's best non-mectin-based wormer.

Ideal Strategic Worming: With its unique combination of a benzimidazole (BZ) and tetrahydropyrimadine (THP), Strategy-T offers an ideal option for the strategic treatment of all major equine worms without relying on macrocyclic lactones (mectin). This makes it the best choice for sustainable worm control programs for all horses.

In your commitment to maintaining the health and vitality of your horses, choose Strategy-T for its unmatched efficacy, safety record, and ease of administration. Keep your equine companions protected against a wide range of parasites with a product that's developed and made in Australia to meet the highest quality standards. Order Strategy-T now and experience the difference it can make in the well-being of your horses.