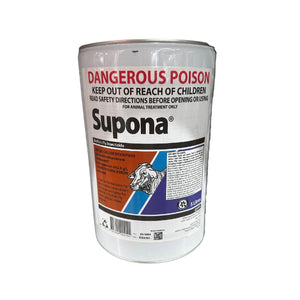 Supona - Your Solution for Buffalo Fly Control - 5L

Buffalo flies can wreak havoc on your cattle, causing stress and significant production losses. These relentless pests can multiply rapidly, potentially reaching "plague" proportions in just a matter of days. The constant irritation inflicted by buffalo flies leads to various issues, including wounds from rubbing, hide damage, and reduced grazing time, resulting in decreased production.

Enter Supona, your dependable ally in the battle against buffalo flies. Supona stands out as an effective solution for tackling these persistent pests. It is a specialised organophosphate-based formulation designed to combat buffalo fly infestations.

Supona is specifically formulated for use in cattle backrubbers and as an overspray to control buffalo flies. This versatile product allows you to take action against buffalo flies in a manner that suits your operational needs.

Don't let buffalo flies disrupt the well-being and productivity of your cattle. Choose Supona, the trusted solution that helps you combat these troublesome insects, protect your livestock, and maintain production levels. Experience relief from buffalo fly-related challenges with Supona today.