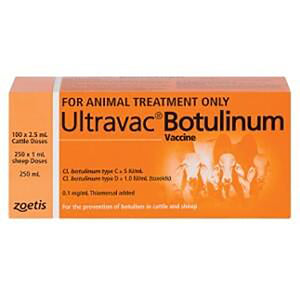 LONGRANGE BOTULINUM VACCINE - 250ML

Longrange vaccine is used to prevent botulism in cattle using a single annual dose.

This vaccine provides annual protection against Clostridium botulinum Types C and D toxins.

Features & Benefits:
- Longrange replaces the need to use two initial doses of vaccine.
- Provides cattle producers with an effective, economical and safe vaccine, providing protection for their cattle while saving on expensive mustering costs and eliminating the expense of a second dose.
- Trials in northern Australia have also shown that site reactions following vaccination with Longrange were minimal.
- Longrange does not clog or block vaccinators, so the purchase of new or special vaccinators is not required.