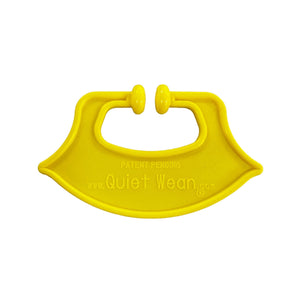 QuietWean Calf Weaner - The Gentle Approach to Stress-Free Weaning

Weaning can be a challenging phase for both calves and their mothers, often filled with stress and uncertainty. That's where QuietWean Calf Weaners come to the rescue. These innovative nose flaps are thoughtfully designed to ease the weaning process, ensuring a smoother transition for your young calves and their mothers.

Key Features:
- Stress-Free Weaning: QuietWean calf weaners are expertly crafted to eliminate the stress often associated with the weaning period. They create a calm environment for your calves to adjust to life without their mothers' milk.
- Maintain Vital Contact: These unique nose flaps are designed to allow calves to graze and maintain physical contact with their mothers. This gradual approach breaks the cow-calf bond over just a few days, all while keeping the pair together.
- Flexible and Lightweight: The nose flaps are crafted from an incredibly flexible plastic, ensuring that they are lightweight and non-invasive. Applying them is a breeze, with minimal discomfort to the calf.
- Washable and Reusable: QuietWean Calf Weaners are not only effective but also practical. They can be easily washed and reused, making them a cost-effective and eco-friendly solution for your cattle management needs.

How They Work:
QuietWean Calf Weaners are introduced to the calves and left in place for a period of 4-7 days before separating them from their mothers. During this time, the nose flaps gently prevent nursing, allowing the calves to adapt to new feeding habits. The process is gradual, ensuring minimal disruption to the daily routines of your herd.

Choose QuietWean Calf Weaners for a more humane and efficient weaning process. Reduce stress, maintain the well-being of your calves, and make the transition as smooth as possible. Trust in a solution that respects both your animals and your bottom line. QuietWean - where gentle weaning meets happy herds.