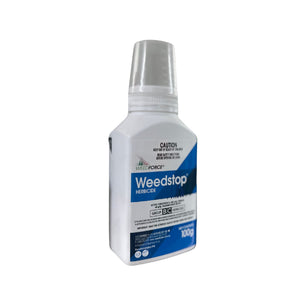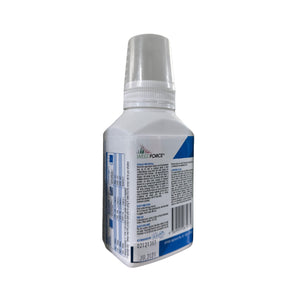 Weedstop Herbicide - 100g

A professional-grade herbicide designed to provide you with long-lasting, hassle-free weed control. Weedstop is your ideal companion product to Roundup, Evict Bio 360, or any other glyphosate-based herbicide, making it a versatile and powerful addition to your weed management toolkit.

Key Features:

Long-Term Weed Control: Weedstop is formulated to create a protective barrier in the soil that inhibits the emergence of new weeds for an impressive duration of up to 9 months after application. This means you can enjoy weed-free areas for an extended period, making it a cost-effective solution for weed management.

Low Toxicity: Weedstop boasts a low toxicity profile, ensuring peace of mind for users. You can confidently use it in various settings without compromising health and safety.

No Unpleasant Odor: Unlike some herbicides that emit strong, unpleasant odors, Weedstop is virtually odorless. This makes it a pleasant choice for applications in residential areas, commercial properties, and more.

Granular Formulation: Weedstop comes in a convenient granular form, making it easy to apply precisely where needed. The granules are designed to provide consistent coverage and ensure the product is evenly distributed.

Convenient Packaging: Weedstop is available in a user-friendly pack size, complete with an easy-measure cup for precise application. No more guesswork when measuring your herbicide; simply use the included cup for accuracy.

Weedstop is your go-to solution for maintaining bare ground weed control in a variety of settings, including:

- Fence Lines: Keep your property boundaries clear of unsightly weeds.
- Driveways: Ensure a clean and weed-free entrance to your home or business.
- Paths: Create inviting, weed-free pathways for safe and easy access.
- Gravel Areas: Prevent weed invasion in gravel driveways and parking lots.
- Around Industrial and Agricultural Buildings: Maintain a tidy and weed-free environment.
- Commercial Storage Yards: Eliminate weeds in storage areas to keep your business space looking its best.

Weeds Controlled:

Weedstop is designed to control a broad spectrum of grass and broadleaf weeds, ensuring that your property remains pristine and free from unwanted vegetation.

Ingredients:

880 g/kg TERBACIL
40 g/kg SULFOMETURON METHYL

Say goodbye to the never-ending battle against weeds with Weedstop Herbicide. Enjoy long-lasting, hassle-free weed control and maintain a clean, weed-free environment for up to 9 months. Weedstop – Your solution for pristine, bare ground where you need it most.