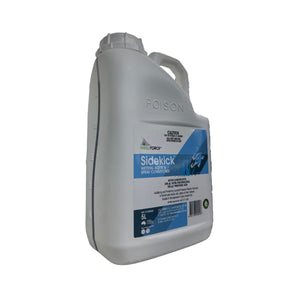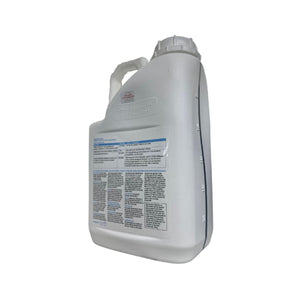 Weed Force Sidekick Multi-Purpose Wetting Agent & Spray Conditioner - 5L

When it comes to optimising the performance of herbicides, insecticides, fungicides, foliar fertilizers, and plant growth regulators, look no further than Weed Force Sidekick Wetting Agent & Spray Conditioner. This versatile 3-in-1 solution is a game-changer for farmers and gardeners seeking to elevate the effectiveness of their spray applications while ensuring the well-being of non-target crop plants.

Key Features:

Natural and Effective: Weed Force Sidekick is crafted from natural surfactants and penetrants derived from soybean oils. These eco-friendly components make it a safe and environmentally responsible choice for agricultural and horticultural applications.

3-in-1 Solution: This remarkable product combines the benefits of a penetrant, surfactant, and acidifier, offering an all-in-one solution for your spray needs. It simplifies your spray regimen and reduces the need for multiple additives.

Enhanced Uptake: Weed Force Sidekick's unique properties are specifically designed to enhance the uptake of systemic herbicides. By facilitating the penetration of these herbicides into plant leaves, it ensures that your treatments are more efficient and effective.

Crop Safety: One of the standout features of Sidekick is its ability to enhance herbicide penetration without causing harm to non-target crop plants. This ensures that your desired target plants receive the treatment they need without collateral damage.

Applications:

Weed Force Sidekick Multi-Purpose Wetting Agent & Spray Conditioner is your go-to solution for various spray applications, including:

Herbicides: Improve the performance of systemic herbicides by enhancing their penetration and effectiveness.
Insecticides: Ensure that insecticides are more efficiently distributed and absorbed by target pests.
Fungicides: Elevate the control of fungal diseases by improving the coverage and absorption of fungicidal treatments.
Foliar Fertilizers: Maximise the nutrient uptake of your crops through improved foliar fertilizer distribution.
Plant Growth Regulators: Achieve more precise and consistent results when applying growth regulators.

Enjoy Cost-Effective Spray Enhancement:

Weed Force Sidekick stands out as a highly cost-effective solution, reducing the need for multiple additives and simplifying your spray regimen. It offers a practical and economical way to optimise your spray applications and ensure you get the most out of your treatments.

Experience the Difference:

Elevate the effectiveness of your spray applications while safeguarding your crops with Weed Force Sidekick Multi-Purpose Wetting Agent & Spray Conditioner. This 3-in-1 solution is your key to achieving remarkable results in your agricultural and horticultural endeavors. Make Sidekick your partner in achieving healthier, more productive plants with every spray.