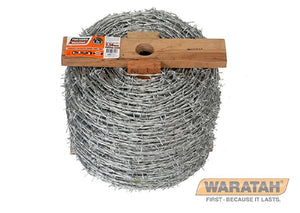 BARBED WIRE - LONGLIFE (BLUE) - 2.5MM - 400M ROLL

Features & Benefits:
- Made from 2.50mm soft/low tensile wire in a continuous twist pattern.
- Greater fire resistance than high tensile wires making it more effective in fire prone areas.
- Easier to handle along the fence line than high tensile wire.
- Continuous twist pattern locks the barbs in place to avoid any movement with stock pressure.
- Consistent and closer barb spacing means more barbs for maximum stock pressure and security.
- No join in the wire coil provides consistent strength along the length of the reel.
- Used as a sight or bottom wire helps cope with added pressure from prime lambs and feral animals.