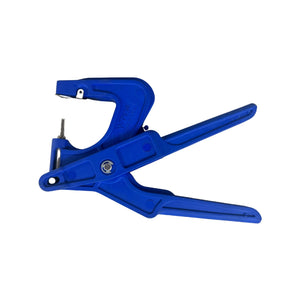 Y-Tex Ultra Tagger - The Ultimate Solution for Effortless Ear Tag Application!

When it comes to tagging your livestock with precision and ease, the Y-Tex Ultra Tagger stands out as the pinnacle of innovation. The Ultra Tagger is not just a tool; it's a game-changer in livestock management, designed to make your tagging process fast, simple, and virtually effortless.

Unmatched Efficiency and Comfort
The Y-Tex Ultra Tagger is engineered with an ingenious mechanical advantage that sets it apart from the rest. This cutting-edge design requires significantly less force to apply 2-piece livestock ear tags, reducing operator fatigue to a minimum. No more struggling with awkward hand applicators – the Ultra Tagger streamlines the process, making it smoother and more efficient than ever before.

Features That Make a Difference
This Ultra Tagger comes packed with features that ensure a seamless tagging experience:
- Wide Open Throat: Say goodbye to pinched ears and animal discomfort. The Ultra Tagger's wide open throat gently accommodates the animal's ear, preventing any unnecessary pressure.
- Straight-Line Application: Achieve precision every time with the straight-line application feature. Tag placement has never been more accurate, minimising the risk of misapplied tags.
- Snag-Resistant Design: The sloped shoulder design resists snagging, ensuring smooth and uninterrupted tagging, even in challenging conditions.
- Built to Last: The Ultra Tagger is crafted with longevity in mind. Its nickel-plated, hardened steel applicator pin is built to withstand the test of time. You can trust it to stay sturdy and rust-free, no matter the environment.
- Durable Construction: Made with high-tech engineered thermoplastic and precision metal parts to create a tagger that is not only incredibly durable but also highly resistant to corrosion. It's built to withstand the demands of the livestock industry.

Make your ear tagging process a breeze with the Y-Tex Ultra Tagger. It's the most advanced hand applicator available, and it's here to revolutionise the way you manage your livestock. Say goodbye to the hassle and hello to efficiency, precision, and durability.

Get your Y-Tex Ultra Tagger today and experience the future of livestock ear tagging.
Click here for handy hints for ear tagging.